Microsoft Dynamics 365 offers advanced enterprise resource planning (ERP) and customer relationship management (CRM) capabilities to help you automate your business activities.
One of the main advantages of this software is that you can integrate your sales and marketing functions seamlessly and gain access to real-time analytics. In short, you can think of it as an all-in-one CRM tool.
Implementing Microsoft Dynamics 365 is not as simple as it sounds. To deploy this successfully, you need to build a robust plan, maintain open communication, and engage with all team members to get buy-in throughout your organization. Check out these five key tips to help you out.
Build a Plan
Like all other business projects and initiatives, this initiative needs a strategic plan to ensure smooth implementation. Deploying new software is no small matter, so you need to consider every process step.
You should engage with the business owners and subject matter experts to understand what business processes you need to plan. Likewise, you can coordinate with other departments while planning, so you have a better idea of their needs.
By involving your key stakeholders from the very beginning, you can map out a clear plan on how to proceed with all the steps. If possible, create a timeline with specific details for each stage so that you can move through the implementation more quickly.
Assess Your Existing Infrastructure
Once you finish planning, you must assess your current systems, applications, and databases. Often, failed implementations can be traced back to outdated systems, making it important to have the right infrastructure for performance. Again, working with the IT department will be critical at this step as they are most familiar with complex integrations and developments.
Understand the Dynamics 365 Functionalities
Before jumping into implementation, make sure you understand the ins and outs of Microsoft Dynamics 365. Then, learn about the functionalities to know how to maximize their use and whether you need add-ons for specific activities. Microsoft also updates Dynamics regularly, so check out the most updated version.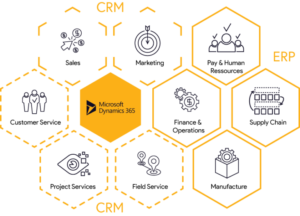 Educate all Stakeholders
Whenever you propose implementing a new system, you need to educate your stakeholders to help them understand what value it offers or how the business will benefit from it. The same applies to Microsoft Dynamics. Rather than just explaining the functionalities like a grocery list, highlight how they can use the tool in the business to gain their support and buy-in.
Encourage Cross-Function Collaboration
Successful implementation of Microsoft Dynamics 365 is not possible if you rely on just one person or team. Instead, you should encourage collaboration across functions and departments. Each team can contribute useful insights like potential bottlenecks and problems that you may have overlooked, resulting in a more efficient project.
Implementing Microsoft Dynamics 365 is a complex process, so you must plan each step carefully and engage with all stakeholders. However, by having a clear direction and involving the right people, you can seamlessly integrate the application into your business operations.