In July 2023, Microsoft announced that it would be making major changes and advancements to its Dynamics 365 marketing product suite. Already a highly functional marketing suite including outbound email/SMS marketing, marketing automation, event management and a full featured Customer Data Platform offering, Microsoft has decided to make a couple of key changes that will fundamentally shift the way we think about database marketing.
Microsoft Dynamics 365 Customer Insights 
Firstly, Microsoft is unifying its marketing suite and CDP under the banner of "Customer Insights". The platform will consist of Customer Insights Data (the CDP component) and Journeys (the current Marketing component). Not a lot of change there. However, Dynamics 365 customers will be able to purchase a base license for Dynamics 365 Customer Insights Journeys and then add Customer Insights Data as an "attach" license for approx 40% less cost per month (at the time of writing this article) than the previous pricing model. This is obviously a significant saving for cost-conscious SME's who are seeking to leverage cutting-edge marketing technology within their existing Dynamics 365 ecosystem. 
Microsoft are also heavily spruiking the AI-driven nature of the suite – powered by Copilot's generative AI capabilities. This presents exciting opportunities for digital marketers for content generation and personalisation. Copilot currently offers content suggestions, but in the near future will also help you build customer journeys on the fly: "…just by describing them in simple words, set up quiet times to prevent messages from sending during unwanted times, effortlessly style your emails and forms based on your website design, and receive guidance to authenticate your domains easily."
If your business has been considering personalisation of online experiences, real-time targeted marketing, and deep analysis of digital customer journeys (think razor sharp lead attribution and acquisition cost analysis), then the combined Customer Insights package is well worth reviewing. 
A controversial opinion: having experience with both Saleforce's Marketing Cloud and Microsoft's Customer Insights, Microsoft are light years ahead of Salesforce in terms of offering a unified product that is native the CRM environment, rapid time-to-market, integration of AI and communications authoring tools (ie landing page and email builders). 
Microsoft's transition to real-time marketing
This is a big one. From September 1, 2023 Microsoft will be focusing on real-time marketing features. This means when a new app is provisioned, the Outbound functionality will no longer be available out of the box. Existing D365 Marketing customers will be able to continue using the Outbound features but no new features will be added to this side of the application. 
To be sure, new Customer Insights subscribers will be able to place a request to Microsoft support to add the legacy Outbound features to their application, however, we may assume that its end-of-life may be imminent. So, transitioning your digital marketing strategy to real-time marketing tactics is a must. 
The idea behind this is to restrict marketers from blasting their email marketing databases with bulk emails and SMS with non-targeted communications. Microsoft clearly sees this as an unacceptable approach to communicating with leads and customers. Indeed, blasting emails to your entire database or even loosely defined segments is a surefire way of reducing the value of your customer database through list attrition. Often businesses are simply unaware of the money that is wasted through non-targeted bulk communications – which is odd considering how many SMS and emails we ignore, mark as SPAM or actively unsubscribe from. Get Response (a well-known marketing database vendor) states that email marketeers may expect 25% – 30% database churn annually. Now consider your cost per acquisition or cost per web-to-lead conversion… This may present your business with losses in the thousands or even millions of dollars. 
A high horse moment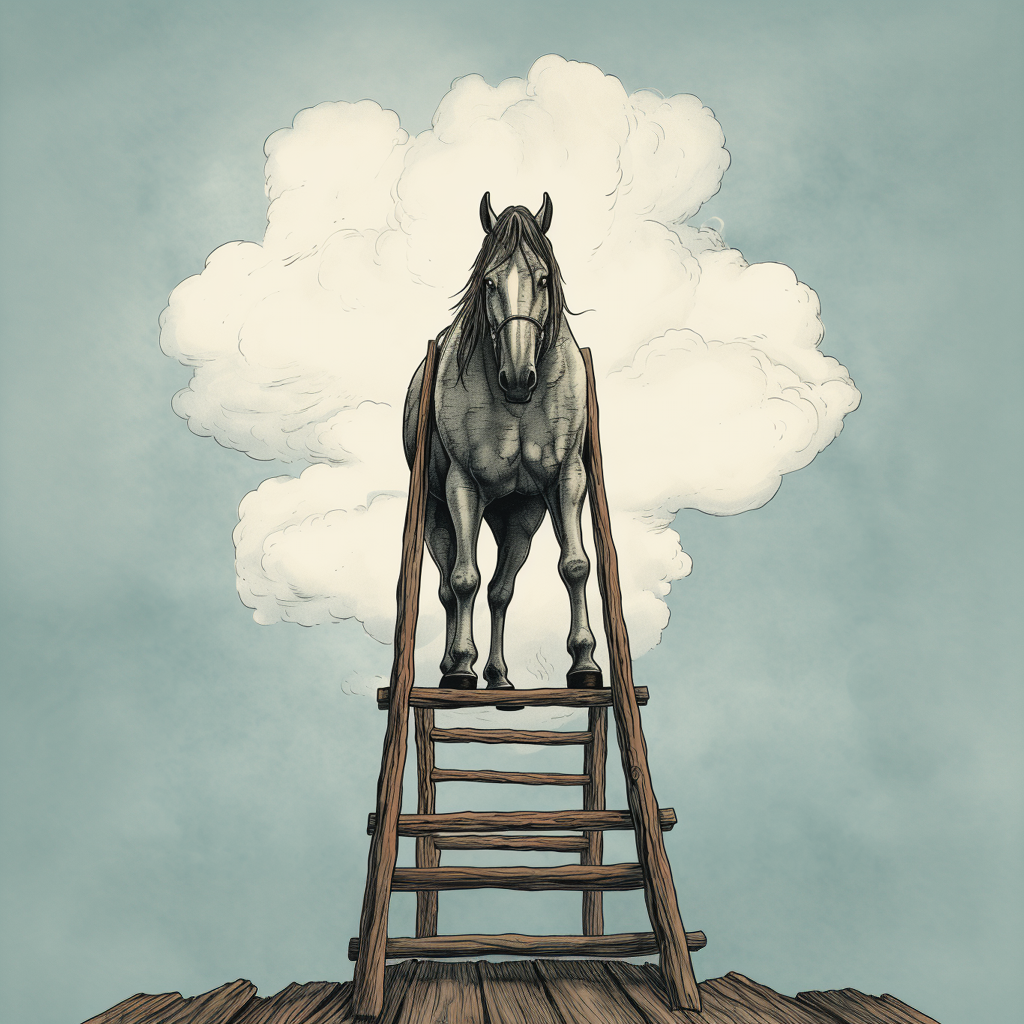 While I have been advising our customers to take a more considered and targeted approach to database marketing using marketing automation tools, many digital marketers have found this concept daunting and overly complex. Now Microsoft is forcing us to reconsider how we go about database marketing by focusing on real-time communications that are triggered by customer actions or preferences. Time to get onboard. Digital marketers of all levels of seniority and experience need to educate themselves on concepts such as personalisation, CDP's, trigger-based communications and how AI may enhance each of these components within our unified or composable martech stacks.
The value of real-time marketing
The concept of real-time marketing is to provide leads and customers with a hyper-personalised and real-time experience across your Email, SMS or Push Notification channels that aims to meet their needs at that moment. According to Microsoft, "Real-time marketing has already surpassed traditional outbound marketing in functionality, effectiveness, usability testing results, satisfaction surveys. Moreover, our innovations and upcoming AI features are available exclusively in real-time marketing."
For instance, as a customer of an online store selling specialist trail runners, I may browse to a product page for Hoka One One Trail Runners. If I am a known customer, by browsing to this page the Customer Insights Data (CDP) module should register this online action and can record my product interest and potentially tailor subsequent product suggestions on the website or even trigger an email offering a discount for the product if a purchase is not registered with 30 minutes of the browsing event. 
If I am an unknown user, I may opt to subscribe to the newsletter at which moment, I may enter a 'new subscriber journey' which may be personalised with offers for a discount on the products I recently browsed. When I want to target newsletter subscribers in future, I now do this by creating a journey targeting a segment of subscribers in our database. 
By building customer journeys and data event triggers, we may build personalised communications that are fired during customer interactions with our digital assets such as websites, portals, mobile apps, emails or SMS. The nature of our communications aim to be optimised and personalised with AI-generated content for the customer's moment of interaction with our brand.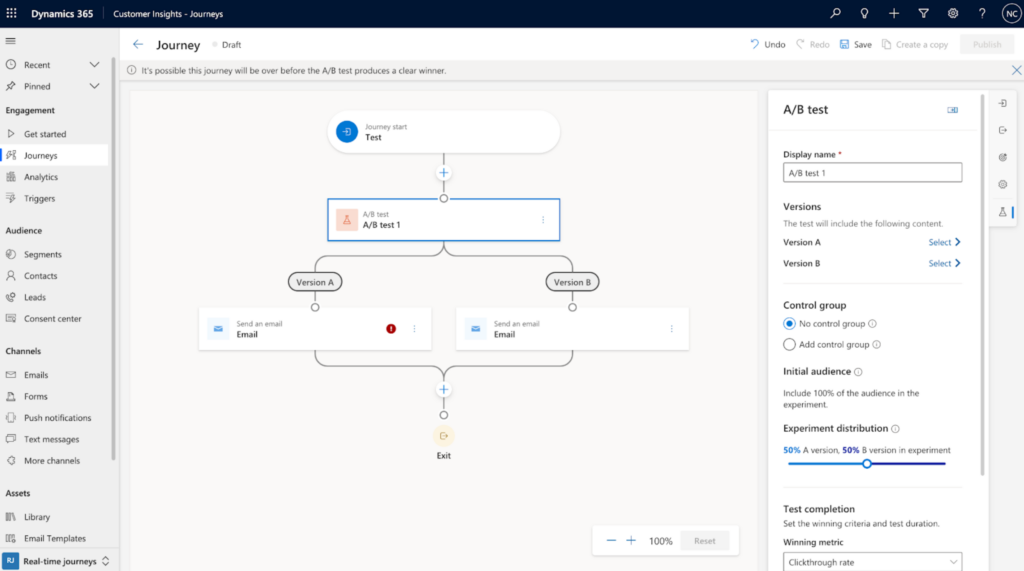 The Customer Insights create Journey interface with AI-driven data interrogation is very neat and A/B split testing can be setup in seconds
As the platform is unified with the sales and service modules of Dynamics 365, we can also trigger other database actions like schedule calls, appointments, tasks, notes, and many other intelligent actions that will attract B2B sales departments. 
Ultimately, this approach will see digital marketers achieve lower rates of subscriber churn, improved communications engagement rates, increased customer loyalty, while yielding more value from their marketing database.
Making the shift
As a fundamental tactical shift in how we communicate with our audiences, we recommend some strategic planning be done with a marketing automation expert in coordination with a certified Dynamics 365 functional consultant. For existing D365 Marketing customers there are tools available to migrate your assets, such as email templates and segments, from the Outbound marketing centre to the Real-time centre. 
With that said, we recommend that you don't consider this as a like-for-like transition. Instead, plan to build lead and customer journeys that engage your audiences based on their real-time actions rather than blasting large segments of your database. 
Finally, Microsoft offers guidelines on best practices for real-time marketing – especially for email marketing. This is essential reading for all digital marketers considering the transition. Microsoft's transition playbook is also a very useful resource that simply communicates the why, what and how.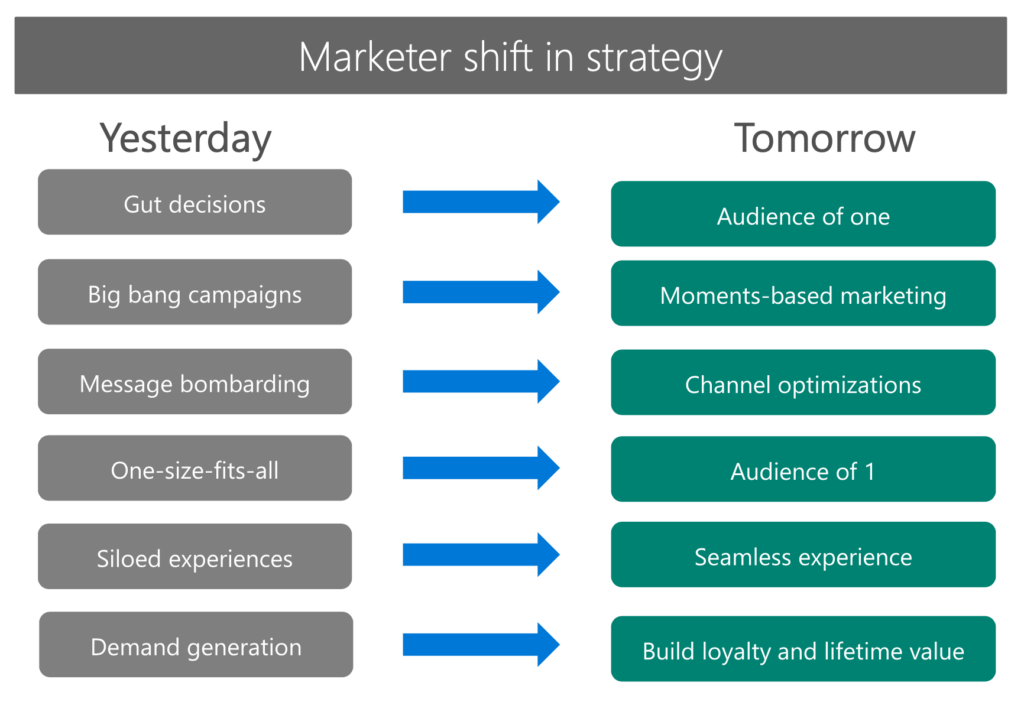 Microsoft neatly describe the shift in strategy in their Real-time Marketing Playbook
Want to know more about Microsoft Dynamics 365 Customer Insights or Real-time Marketing? Contact our Digital Transformation department…